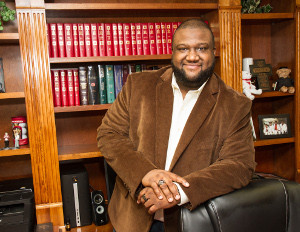 Pastor Anthony L. Holmes, Sr. was born on September 25, 1981 as the fourth child of Benjamin and Sylvia Holmes. Minister Holmes accepted Christ as his Savior and was baptized at the age of 7 at Glendale Baptist Church, now The Sanctuary at Kingdom Square. He received most of his education in Prince George's County Public Schools. Following High School, he studied at the Omega Recording Studios School of Applied Recording Arts and Sciences where he was certified as a Live Sound Reinforcement Engineer. Pastor Holmes received his Master of Divinity degree from The Samuel Dewitt Proctor School of Theology at Virginia Union University in Richmond, VA.
Pastor Holmes accepted the call to Ministry and was licensed to preach the gospel on Wednesday, June 1, 2005. He was later Ordained on Friday, January 27th 2017 by Pastor Anthony G. Maclin. Throughout his years of being raised at The Sanctuary, Pastor Holmes was involved in various ministries of the church including the Youth Fellowship Ministry & Choir, Boy Scouts, Teen Ministry, and the Multimedia Ministry. He has served as the fulltime Multimedia Coordinator and Minister to Youth and Young Adults where his key focus was the spiritual formation of persons ages 5 to 35. Since 2012 he has gladly served on the International Youth Development team of The Lott Carey Foreign Missions Convention, where he leads the events, programming, and marketing team. On Sunday, December 11th 2016 he was presented to the congregation of The Loudon Avenue Christian Church in Roanoke, Virginia as the candidate to fulfill the position of Senior Pastor. The congregation overwhelmingly voted and on Sunday, January 1st 2017, he preached his first sermon as the Senior Pastor.
Minister Holmes is the proud father of two sons, Sekuan and Anthony Jr.