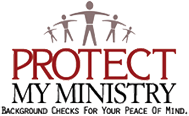 You will first receive an email from Loudon Avenue Christian Church that will contain a link to complete the online application and authorization. The email will be sent from message@mobilizemyministry.com. Below is an image of what the email should look like.

Next, you will select the first link in this email. This will open the application in your internet browser. If you are unable to open the link you will want to copy and paste the link into your browser.

Before you are able to enter your information you will want to select Yes, to acknowledge that you are submitting your information to the Protect My Ministry for the purpose of a background check to be completed on behalf of the organization.

Once, you have selected Yes you will enter in all of your information on the form. You will need to select the check box on the bottom of your form as well as, enter your name before selecting Continue.



When you have selected continue you will now be asked to read and sign the Authorization form. You must select the "I agree" bubble and sign your name to sign this form. You will also be asked to provide the last four digits of your SSN. This will need to match what you have entered on the first screen.

Once you have signed the form you will select Release my Application. This will send your application back to the organization for review.
You have now completed the Online Application and Authorization.